For my 52nd Birthday I decided what I most wanted to do was go camping in Pearl, our sweet teardrop! Here's some pictures of her: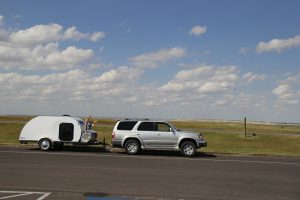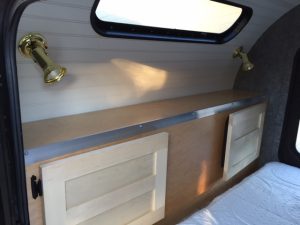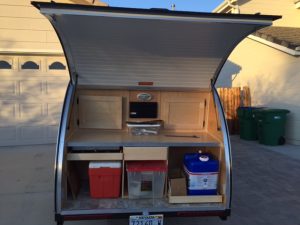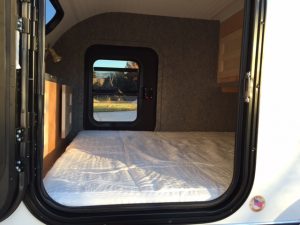 We bought Pearl in 2015. The first big trip we did with her was for my 50X50. This was an insane trip in retrospect! I wanted to see all 50 states by my 50th Birthday. And wouldn't you know what was left? North Dakota, Minnesota and Kansas! So, we did a boomerang trip to Duluth, Minnesota for Fourth Fest. We went through North Dakota on the way over and Kansas on the way home. We also passed through Wyoming, South Dakota, Wisconsin, Iowa, Missouri, Nebraska, Colorado and Utah! We traveled 5,500 miles through 12 states in 3 weeks! CRAZY! But we sure had the teardrop experience down by the time we got home…
Pearl is an awesome way to camp. She is super easy to deal with because she is basically just a bed with lovely maple cabinets for all your stuff and a kitchen galley in the back. We stay at RV Parks or campgrounds that have bathrooms and they usually give us a spot close by. She is set up and ready to go during season, so all we have to do is pack our clothes, bathroom stuff and food and we're off! Scott found the most awesome shade structures that we use to protect against sun and rain. Pearl can actually fit under these if necessary.
Here's Pearl at our camp spot for this trip in Blairsden/Graeagle, CA at the Dream Catcher RV Park, a sweet little campground near national forest, lakes, and great hiking trails: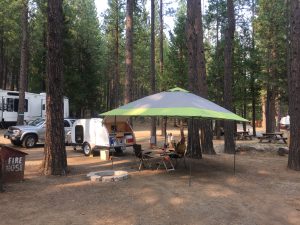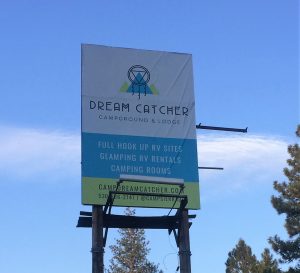 The nice thing is it's only an hour from our house! They had a nice, cool recreation room where I set up an office and yoga studio: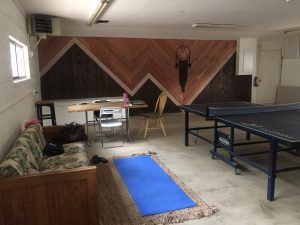 One of the things we notice about RV parks these days is most people don't get out of their big trailers, so we get most of the facilities/amenities all to ourselves.
Our first day we explored Eureka-Plumas State Park and took a 1.5 mile walk around Madora Lake: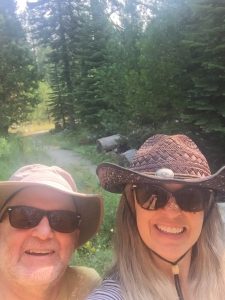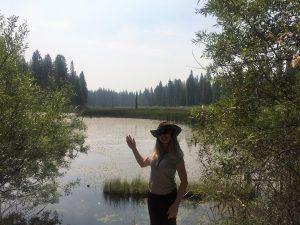 We drove to the beautiful Nakoma Resort and peaked into the restaurant at the Lodge: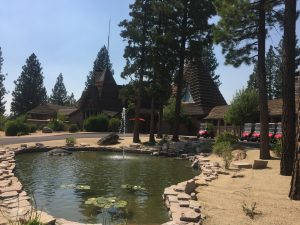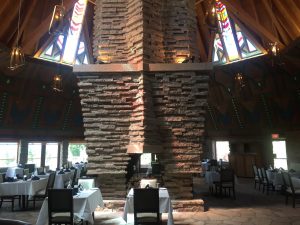 We had an awesome Italian dinner at Cuccia's in Graeagle overlooking a horse stable: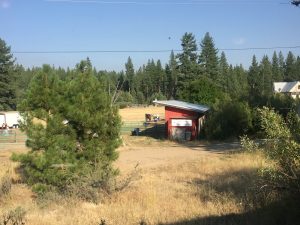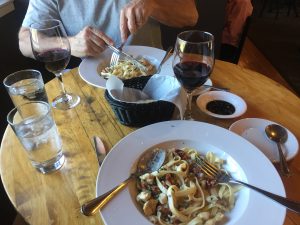 The last day, on our way home, we drove through the scenic Lakes Basin area and visited Sardine Lake, passed through Sierraville, and stopped in Truckee for a beer at the Fifty/Fifty Brewing Company. We enjoyed a nice, smoke-free sunset at home in our garden!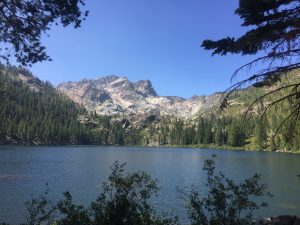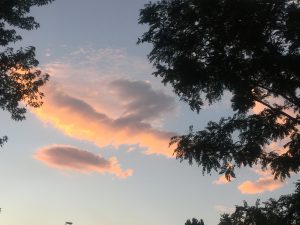 It was a great trip to end a wonderful Birthday week for me. This Birthday has been about celebrating that my Hip Adventure is (mostly) behind me and now I have a new behind! The camping trip reminded me that I am not yet that strong. I stood and walked too much and so I am sore, stiff, weak and tired today. But it was worth it! I'll need to pace myself better for our next trip. I forget how much standing and walking is involved with outdoor life and how much I want to hike! But my girls are always good reminders of my limits and that I am still healing from two major surgeries in one year.
The other thing that was special about this week was all the calls, visits, meals, texts, emails, and cards from the people in my life. I felt very loved! This is my favorite thing about Birthdays! (Well, that and the cake 🙂
Here's a photo of Scott's dad-Jim, my mom-Anita, me, mom's friend-Wanda, Scott, and Jim and Scott's old neighbor-Kitty having dinner at Jim and Kitty's place (5 Star, Premier Residences):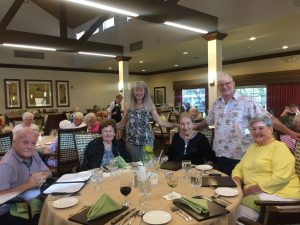 A photo of me celebrating my 52nd in one of my favorite places, our back yard: