My Journey as a Writer
Looking back, I have written since I was a child. It's always been inside me, trying to get out! It's been a long, winding road filled with sudden inspirations, long dry spells, great expectations, affirming publications and awards, discouraging rejections, revisions and re-visioning, writing groups/companions and classes, and the eternal questions: Do I have anything useful to say? Am I good enough? Does anyone read any of this?
I doubt I'll ever know the answers to these questions. At some point, I decided they weren't really important. I just have to write. I hope some of it speaks to someone else, helps them feel less alone in this world, more understood and hopeful, more trusting of their own process.
Recently, it occurred to me that this blog/website is simply a space in which to share the journey and the mystery that is Life. It is important to do that without being so concerned about whether or how it is received. That's not my job; my job is to write and put it out there.
This is a the chronicle of my writing life from this moment in time, back to the beginning. It is organized similarly to the blog–to how life is lived. Sometimes, in looking back and following the trail of breadcrumbs I better understand who I am in the now. My hope is this might be of help to other aspiring writers and artists. Aren't we all aspiring to create something? Our journeys are unfolding and often all we can see is the next open way forward. Rarely do our lives take us where we first think we are going. For example, I have not ever finished or sold the Great American Novel I once dreamed of. (Just for fun, I'll include my attempts at this, before I decided how badly I sucked at novel writing…)
In what follows, my plan is to tell a bit about where I am in my journey as a writer in any given year (or decade) and then to include the significant writing I did during that time period.
2017-2018
It's been an interesting couple of years in my writing life. Thanks to my hips, I have more time to write, which I have longed for. I guess I needed help sitting my butt down to actually do it! This is easier when your butt doesn't work anymore… I always find it fascinating how when one door in life closes (being so physically active and having a yoga/Tai Chi studio), another one opens (space and opportunity to write).
In October 2017, while I was recovering from my first hip replacement, I was inspired to start this blog. It first began as a chronicle of my hip adventures and then branched out into other topics. I started with my first entry on October 29th, and then wrote and back-dated the experiences leading up to that point. Pretty quickly into the blogging experiment, I would get inspired during my morning meditations to write about other topics. The blog has organically evolved over time. I am enjoying this outlet for my writing. I'm especially excited about the opportunity it gives me to share with others and to have conversations with them that were sparked by the blog. I don't force myself to write in the blog on a regular schedule, as this feels stifling and rigid to me. I write only when I'm inspired. The exception to this is that I write a monthly update on my Hip Adventures, so that my fellow hipsters can see how the healing process unfolds over time.
This poem came through in January 2018, after I moved my yoga mat to the back bedroom of our home from my studio, and Theo (our cat) decided to practice with me regularly.
A major event this year was guest editing my first issue of the Quaker publication, What Canst Thou Say? (http://www.whatcanstthousay.org/). I'd been writing for them for about 12 years and was asked to guest edit the Other Lives issue after I wrote and shared this piece:
I've been working on this piece for about 2 years now. It evolved both in personal experience and in the way I described it. I'm happy with how it turned out and was thrilled it was chosen as the lead for the May 2018 issue.
Then I had another big moment in my writing life. I was asked to join the editorial team of WCTS?! Wow, what an unexpected honor. I'd never really pictured myself in this role. I always thought that was for someone way more experienced and evolved than myself. I'm still not entirely confident about this, but I must say that after guest editing the Other Lives issue, I think I can learn as I go. Luckily, Quakers are a very supportive, encouraging, non-judgmental group and willing to mentor a neophyte like me. Looking back on my life, I remember that most new roles in my life feel this way in the beginning. Honestly, I'm SUPER EXCITED!!
2016
During this year, the main focus of my writing was my mother's life story. She wrote out sections or told me parts of her story and found photos to go with the text. Luckily, she had organized all of her photos in folders based on where she had lived at the time. This was how she viewed her life, so it's how we told her story. I learned a lot about her, my family and myself doing this yearlong project. We finished in January 2017, in time to get the book to the printer so copies would be ready for her 82nd Birthday in February. We had a book release party attended by over 30 of her friends and co-workers.
The 144-page manuscript was printed in color with a clear cover and spiral binding. She was so thrilled with it and received rave reviews from her readers. My mom is a second generation immigrant and has led an interesting life from farms to cities. She has also traveled widely. I'm so glad I took the time to do this project with her. Shortly after we finished, my right hip gave out.
Here is the cover of her book, the table of contents, and both our reflections at the end:
In 2016, I was also asked to contribute a piece to my friend, Larry's column on the Senior Spectrum Website. His topic for the month was gifting in retirement. He asked me to write the story of my studio, which was based on gifting and had evolved over the last three years.
2014-2015
My father was in the end stages of dementia in 2014 and he passed away on October 26, 2014. After that, there was a lot of work to settle his estate. In July 2015, my beloved Scott and I had our commitment ceremony where we exchanged vows we wrote ourselves and celebrated with family and friends. Needless to say, I didn't write new material during these years.
For my father's eulogy, I read an essay I had written about him in 2005. It was first published in the Valley Times in February 2005. I did a reading of this essay during the Alamosa Art Walk in 2010.
My Father is Howling at the Leaves
2011-2013
This was a very intense period of upheaval in my life involving a divorce, a new love and marriage and another divorce, and then the beginning of a partnership with a long-time friend, turned lover. It was tumultuous, painful, confusing and consuming. I moved several times and had significant changes in my life circumstances. I was only able to write prose poetry during this time, as anything else was beyond me.
Phoenix Rising   Published in What Canst Thou Say? November, 2013.
Storage Angels  Published in What Canst Thou Say? August, 2015.
1983-1988 University of Nevada, Reno
During these years, I struggled with difficult choices in regards to choosing my major. I wanted to write. I loved creative writing and took creative writing classes for my first two years at UNR. I also had an interest in psychology, which had always fascinated me. My mother was a business woman in the accounting/finance field and she encouraged me to get into the Business School. She was concerned that my other interests would not lead to good jobs. In my third year, I began taking classes in the Business School and discovered I had a knack for computers. I also liked Finance. For my third-fifth years, I studied in the Business School and earned a dual major in Computer Information Systems and Finance, with a minor in Accounting. While in the Business School, my writing was strictly business or technical. For one of my classes, I wrote a 50+ page manual on how to use SAS, a challenging statistical analysis program.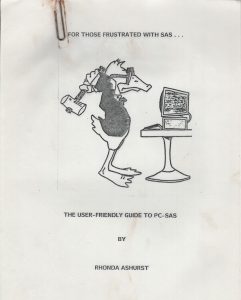 As part of my last creative writing class in 1985, I started working on a concept for a novel about a ghost appearing to a modern-day woman. I wrote 39 pages on the story as part of the class, and included an excerpt of it below. I picked this story up again in 2004-5, when I made my most serious attempt at writing a novel.
1981-83 (high school, ages 14-16)
I attended Coleville High School for three years. This was a small high school, with only about 100 students. The community I grew up in was rural, remote and agricultural. Because of this, I had opportunities students in larger schools might not have had. One of these opportunities was to become a Vice President of the Future Business Leaders of America in the state of California. Through this organization, I entered competitions in a number of events, most involved communications. I enjoyed writing essays and public speaking.
This was my 1982 essay which won first place in the State of California FBLA competition:
Accident on Board Nikon IV 1982
In 1983, I gave this speech which won 2nd place in the northern section of California FBLA and 5th place at the state level:
I wrote a couple of other speeches during high school. The following speech was written for a Lion's Club contest. I received an award as Club Winner in the Multiple District 4 California & Nevada competition:
I graduated a year early from Coleville High School and was the 1983 Valedictorian. Here's the speech I gave at our graduation ceremony:
Valedictorian Speech June 1983
I was also a pretty philosophical kid, with ample curiosity about spirituality and metaphysics. I guess I was always a contemplative and a mystic! I remember having read both the Old and New Testaments by the time I was in high school. I was fascinated with life and death, wondering what happened when an animal was born and where its spirit went when it died. I had a very strong sense that it went on. Here's some of my writing and poetry in this genre:
1977-1979 (ages 10-13)
These are the first samples of my writing that I was able to find. I remember having a vivid imagination as a child which is evident in the Frog story! I always had invisible friends and created elaborate stories about our adventures in my mind. I loved to read. I was also very close to my animals. During these years I raised sheep and the Friends story tells of my relationship with my flock.
The Day I Turned Into a Frog 1977
Friends 1979  Won 1st place in Creative Writing at Tri-County Fair in Bishop, CA.