It's been an interesting week. I continue to have challenges standing on my right leg and I still limp when I walk, though it is better than it was last week. I expressed my frustration to my Physical Therapist and we added new strengthening exercises, which I probably overdid (no I would NEVER do that, would I?). This led to a sharp pain in the side of my right leg, which made my problem worse, especially the motion of stepping up (stairs, for example).
So, I decided to try something novel and accept where I was at and stop pushing. Well, it wasn't actually that rational. What really happened is I tried stepping up stairs until I was in utter agony, at which point, I collapsed and cried for awhile. My thoughts went something like this: I'll never be able to walk normally again. I'm in the same place I was before the surgery and everything I tried then only made it worse, just like now. I am a master of catastrophizing.
In the midst of my tears and despair, a calm voice within that I've come to call my Witness, suggested that I STOP. Breathe and let go, let it be, stop pushing, do what you can that doesn't hurt. 
Since then, I've made the fun discovery that I am way more flexible this week and can do yoga poses that I'm technically not supposed to be doing, like standing forward bends and touching the floor.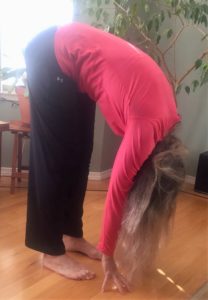 I can do more Tai Chi than I've been able to do, but I can't push any repetitive motion that involves bending the right knee and putting weight on it. I am not using the cane as much and walking around the block is easier, though I do bring the cane along for support. I'm not lurching to the right side as badly as I was before. (I'll try to figure out how to add video to this blog next week, so you can see how I'm moving after the critical 6-week mark.)
My other exciting news is that now that I can touch my toes again, I was able to trim my gnarly toenails and shave my furry legs. Yay! The things we take for granted…
This week, I was able to return to my wonderful massage therapist, Stephanie. I had been massaging vitamin E oil into the incision and rubbing the muscles with salve twice a day since about 3.5 weeks. I told her to try working on the scar tissue and see what she could do. She was able to go deeper than she'd expected and I felt a release afterwards in a ball of tissue I'd been feeling under the incision that was affecting my muscles. The incision site and the muscles underneath are less tender to the touch. So, I was able to sleep on my right side this week for the first time! (This is exciting for me–a side sleeper.)
Today, the muscles on the side of my leg are less sore and I can spend more time on my right leg without pain. I even made it through the 24-posture, short form, Yang-style Tai Chi sequence this morning, with a lot of modifications. I'm sure you have seen 80 and 90-year-old people do this traditional sequence on some video or another over the years–I look a lot like them, but I can do it!
I'm encouraged on this end of the week with my recovery process. I am just having lessons in patience and surrender to my own unique healing path.
Moral of this week: Accept where you really are and go from there. Don't push to be somewhere you are not.
Fun Story of the week: On Sunday afternoon, I walked in the Arboretum in the park behind our house. The fall colors were still beautiful and it was in the 70's. Families were out enjoying the day and taking pictures. I saw a family playing in the leaves under a large tree. As I approached, the little boy started running towards me, "Nana!  Nana!" His mother said, "Honey, that isn't your Grandma." I bet she walks with a cane too. Later it struck me that it was the first public acknowledgment of my entrance into the Elder stage of my life, and who better to notice than a little tyke!
——————————————————————————————————————————————I am very excited to have finally figured out how to create this blog. (I actually started this blog this weekend, but will back fill it with previous events, so the timeline makes sense to new readers.) This is my first whole blog entry! It is amazing how far the blogging/website design software has come since I did my last one 10-20 years ago. I have lots to learn, but at least I've begun. For those of you who began with me emailing updates, I'll add an archive of those as previous posts when I have time. Then, if you missed anything, it will be here.