What a day for me and my new left hip! We started out with qigong and I was able to do Monkey, which requires a lot of balance and I've never done without wobbling on my ankles. Imagine my surprise when I discovered I could do it steady and even for the first time! That inspired me to try Tree Pose.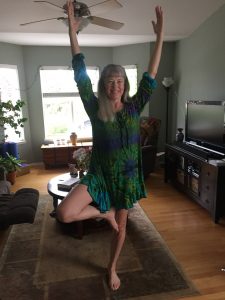 How cool is that? And I can hold it! That took about 3 months last time, due to the problems in my gluteus medius which couldn't stabilize me on my right leg.
Marta, Larry and Ray came to visit this morning and couldn't believe the difference in me this time vs. last time. We drank mimosas to celebrate and watched as the old Chevys paraded by, going into the park for the annual Chevy Classic Car Show.
Then I was inspired to try walking around the block without my hiking poles. I couldn't do that last time until the 4th week! And then it hurt a lot and I wasn't sure if I'd make it back. I had to sit and rest along the way. Today, I cruised right around slowly without pain and then marched up the stairs at the end! Last time stairs were the bane of my existence for MONTHS. I did everything I could to avoid them.
I walked in the house, sat down and immediately began to sob tears of joy and relief. I had a moment of compassion for myself, fully realizing how very hard it was last time. Theo hopped up on the table and looked at me with concern. I patted his head and told him not to worry, "These are happy tears."