Big highlight of the week: I was able to walk about 2/3 of a mile in the forest at Lake Tahoe! I didn't think I could make it that far, but it was not a problem and I was just sore afterwards. Nothing a couple of ibuprofen couldn't take care of. I am so stoked! Yesterday, I went down to Idlewild Park and walked along the Truckee River. This is one of my favorite places to walk. I haven't been there in a year. I was able to say hi to the huge Cottonwood tree who feels like a long-lost, old friend. Again, I was able to go 2/3 of a mile. This is as far as I've been able to go without dying for the last year. I'll bet I can make a mile next week and just keep slowly increasing it from there. It feels so good to walk again!
I realize that walking is an important part of the way I connect with myself and nature, and I've missed it more than I knew. I can't wait to get back into the forest and be able to do hikes again. I'm content for them to be shorter and less strenuous than they once were. I booked our first summer camping trip in July, which is very exciting! We will go out in our cute little teardrop, Pearl. I'll add a new category to the blog and start chronicling our fun adventures in her.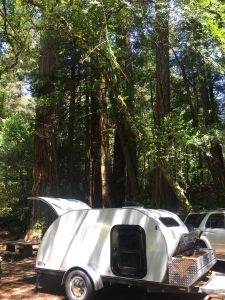 Pearl in the Redwoods, May, 2017
I also returned to my meditation cushion for morning practice: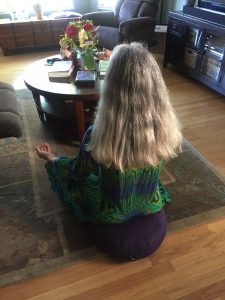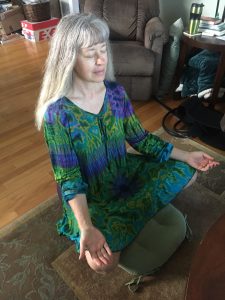 After my last post I was able to shave my legs and do a pedicure. Oh, the simple things in life that make all the difference!
This is the point where the hip settles in to my body and the muscles begin to loosen up and strengthen. I can bend down and reach the floor now. I no longer have anxiety about dislocating the implant. However, I continue to move slowly and mindfully and to be very careful not to overdo it. That, my friends, is the golden trick. I have to thank my right hip for all the instruction it gave me on that subject!
This morning, I decided it was time to take all the PT props out of the guest bedroom now that I can get on my yoga mat on the floor in the back room. That is always a big moment, signaling a return to normal. It's all happening so fast, I'm having a little trouble keeping up. But, I'm not complaining!
This afternoon, I returned to the pool again for the first time in 5 weeks. It was glorious to be back in the water! I oozed into it and stayed until I was pruney. I was able to do about 13 laps, so about 650 meters, which isn't bad for my first day back! I also did 2 laps of walking front and sideways. Again, I am amazed at the difference between the hips, how much easier this one is than the last. I was so unsteady when I first started going to the pool last time, and I didn't do that until 3 1/2 months after the surgery! I spent time in the warm water therapy pool, lollynoodling around luxuriously. (Lollynoodling is my word for when I float aimlessly around the pool, whirling and swirling, suspended on a noodle.)
Special Note: I made a video of my favorite stretches after a hip replacement (posterior approach) and added it to Rhonda's Hip Adventure Videos. If you are one of my hip readers, you might want to check that out.